Surgical results and performance
• I have worked at St Mary's since December 2000 as Registrar, Senior Registrar, and Locum NHS Consultant and more recently as Senior Clinical Lecturer and Honorary Consultant Cardiothoracic Surgeon. During this period I have performed more than 1000 cases (including more than 400 as trainee and 600 as consultant).My clinical practice involves all the range of adult cardiac surgery including high risk patients: redos, double valves and complex aortic cases.
• It is important to note that during this period all my surgical data have been audited and for the last 4 years my results are available to the public in relevant web-pages.
• Also I have not included in the presentation of surgical performance below, any private cases that I have performed in the private sector.
• My surgical results of year 2008-2009 will appear in the internet in April 2009
In summary for the last 8 years my total unadjusted mortality
1. For CABG is 12/808=1.4%
2. For AVR 2/58=3.4%
3. For other 7/92=7.6%

Total 21/958=2.1%

In detail my audited and published results are the following:
1. Surgical Results before my appointment as consultant (2000-2005)
| | | |
| --- | --- | --- |
| Surgical procedures | Number | Deaths |
| CABG | 563 | 7 |
| AVR | 37 | 1 |
| Other | 48 | 3 |
Total number of cases =648 with 11 deaths
2. Surgical Results-first year as consultant (2005-2006)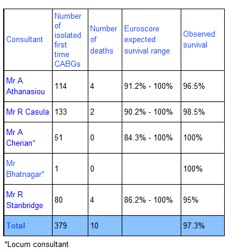 (From:
Source of data
)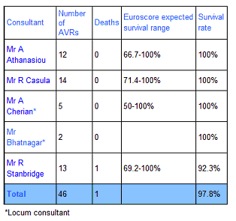 (From:
Source of data
)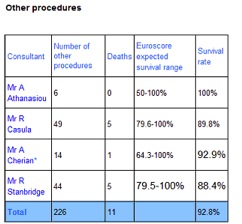 (From:
Source of data
)
3. Surgical Results-second year as consultant (2006-2007)
(From :http://www.st-marys.nhs.uk/uploads/documents/
Cardiothoracic%20Surgery%20Audit%20Database%20Report%20_final_.pdf)
(From :http://www.st-marys.nhs.uk/uploads/documents/
Cardiothoracic%20Surgery%20Audit%20Database%20Report%20_final_.pdf)
Diagram of performance 2006 - 2007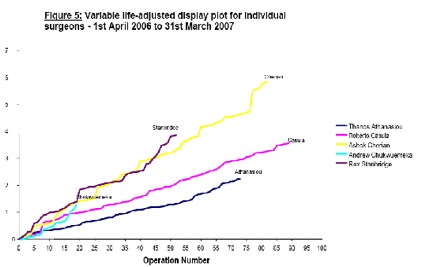 3. Surgical Results-third year as consultant (2007-2008)

(From http://www.imperial.nhs.uk/index.htm)

(From http://www.imperial.nhs.uk/index.htm)

(From http://www.imperial.nhs.uk/index.htm)

(From http://www.imperial.nhs.uk/index.htm)

Diagram of performance 2007 - 2008